interactive staircase design tool
Have you ever wanted to see what your home improvements look like BEFORE the work is done?
Be creative, find Inspiration, and have fun building your dream staircase with our custom design tool! Tons of options for both balusters and newels. Traditional or modern designs in wood or iron.
Get Started
---
---
Catalog Library
We've made it easy to find even more awesome products with the largest railing and stair catalog resource library online.
Browse here to find the perfect solution for any entryway, staircase, office, exterior, or mixed use projects.
---
Browse Catalogs
---
---
getting to know you
Most of all, we hope you stop by our beautiful showroom and meet our knowledgeable and friendly team. Because we've been in business since 2003 we understand each of our customer's styles and tastes are different, and we are absolutely determined to find something beautiful and perfect to fit your unique needs.
Consider Stair Solution as your iron baluster resource. We have one of the largest showrooms in the southeast located in Alpharetta, GA. We pride ourselves on working with our customers face to face whenever possible because we enjoy the experience of getting to know our clients and designing the perfect iron baluster staircase together. Offering commercial or residential iron baluster handrail systems in both modern and traditional designs. Our services include; consultation, iron baluster installation, onsite inventory and parts, staircase designs, and online eCommerce ordering.
---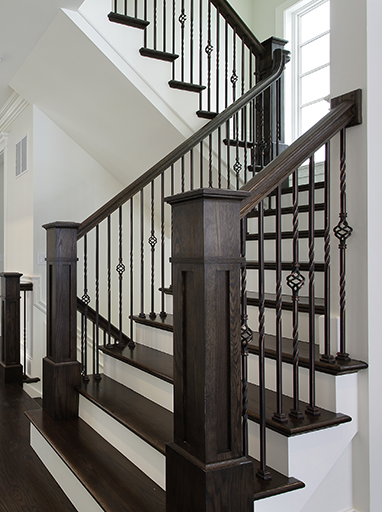 iron balusters - a rich history
To talk about iron balusters we should first touch on the history of iron. In particular, the great iron age of India (1200 – 600 BCE) which helped forge the beginnings of a universal adoption of this metal and what would eventually help change the world forever. Fast forward a few centuries to the first known use of iron staircase balusters, which took place in Europe early 16th Century. During this period, iron balusters became a highly decorative yet functional staple for Kings, Queens, architects and builders. With a rich history of architectural ingenuity and beauty, many European countries began using this material as a more ornamental accent. To this day, the same practices are used almost everywhere. Some of the earliest examples can still be seen today in certain European landmarks like the Canterbury and Winchester Cathedrals of England and Notre Dame de Paris.
Since then Iron balusters as we've come to know them , continue to be crucial part to countless historic architectural wonders around the world. Coveted for its malleability and abundance, this decorative iron addition to staircases, balconies, and terraces can transform even the most mundane of staircase and hallway areas into a masterpiece. As one of the most widely seen and used areas of the home, a renovated staircase with iron balusters can leave a strong lasting impression to anyone that enters. In conclusion, talking about iron balusters is one thing, but seeing these installed and properly finished is a truly satisfying experience.
---